The Company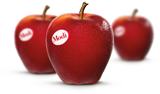 Certified quality
The commitment of the companies in offering top quality in terms of food safety and product wholesomeness, in compliance with international standards, is guaranteed by the most important certificates in the sector awarded to the processing centres. These include Global Gap, BRC, IFS, ISO 9001, ISO 14001 and HACCP. The total control system guarantees the quality and traceability of the fruit along the entire chain, from the producer to the final consumer.
Distribution Partners
FUTURA / F.LLI CLEMENTI & VOG TERLAN
AGRINTESA / ALEGRA
APOFRUIT ITALIA
C.I.C.O. / MAZZONI
PATFRUT / NATURITALIA
Packaging.
Quality packaging for all your needs
The range of Modì® recycled cardboard packaging has been designed to satisfy all your needs, to guarantee excellent quality and provide maximum visibility at the sales point, standing out from traditional stock.
Traypac and Maxpac also available on request
100% recyclable
Christmas Pack
In the Christmas period, Modì® is on the market in special
"Christmas Edition" packaging.
• Tray 4 fruits
• Tray 6 fruits
• Mini carton 25x40