The Company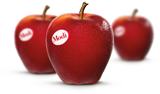 Production
Environmentally-friendly savoir-faire.
Modì® is a rustic apple that is eco-friendly by nature.
Thanks to the tree's innate resistance to the main pathogens and integrated agricultural production in the field, the need for man's intervention is minimal, with positive effects on the environment and considerable savings in terms of production factors. such as water and energy.

Modì® is the first apple with a carbon footprint marker (CFP), measured by the Faculty of Science and Technology of the University of Bolzano. Its carbon monoxide emissions are equal to 0.028 kg of CO2 per kg of Modì® produced in a fruit orchard, with a reduction of up to 49% of greenhouse gas emissions into the atmosphere compared to other benchmark varieties under the same conditions as Modì®.
*0.028kg/CO2 per kg of product:
a saving of up to 49% compared to other benchmark varieties produced under the same conditions as Modì®.
In addition, it is easy to grow and has early production that is constant, abundant and without alternation: in fact, the tree bears fruit all year round, with considerable advantages for producers. Its excellent ability to adapt to a variety of environmental conditions with differing temperature and levels of sunshine means it is possible to obtain an excellent colour on the fruit even in flatland areas.

Modì® loves nature and helps us create a better future.
Main Production Areas