Season


Almond and Modì® apple gazpacho.
Ingredients
for approximately 4 glasses
peeled almonds, chopped: 80g / 2.82 ounces
soft white bread crumb (if stale, soak it in water and squeeze it dry): 25g / 0.88 ounces
Jerez (Sherry) vinegar: 25g / 0.88 ounces
Modì® apples peeled, cored, and diced: 200g / 7.05 ounces
1 peeled clove of garlic
extra virgin olive oil: 60g / 2.11 ounces
cold water: 250g / 9 ounces
Flor de sal (salt flower) q.s.

to decorate and serve
cucumber; chives; parsley; a few ice cubes; slices of Modì apple
Preparation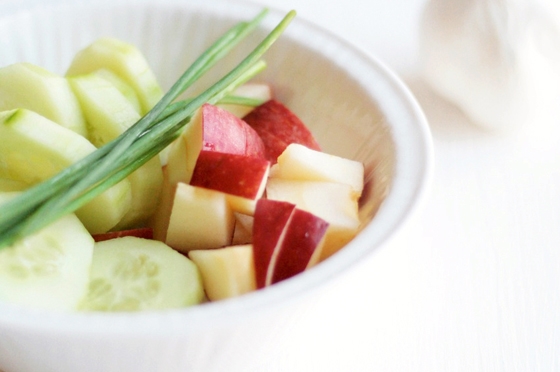 Prepare the gazpacho: whisk the almonds and the soft breadcrumb together with the vinegar and some of the water into a smooth cream. Add the apples, the chopped clove of garlic and the remaining water.
Whisk again and add the oil and a pinch of salt flower. Adjust, if necessary, the density of the gazpacho with more water, according to taste. Leave in the fridge for at least 1 hour.

Serve: pour the gazpacho into the glasses, add a few cubes of ice and decorate with small pieces of peeled cucumber, apple slices, chives and parsley.
You can accompany it with wholegrain crackers, croutons or crispy breadsticks.
Ingredients for:
approximately 4 glasses
This unusual gazpacho, white and featuring almonds, takes its inspiration from the Andalusian "Ajoblanco", a cold soup relished in hot summer days.
The surprising flavour balances sourness, savouriness and sweetness.
Suggested Recipes