Season


Crunchy chicken with corn flakes, apple and tomato "ketchup"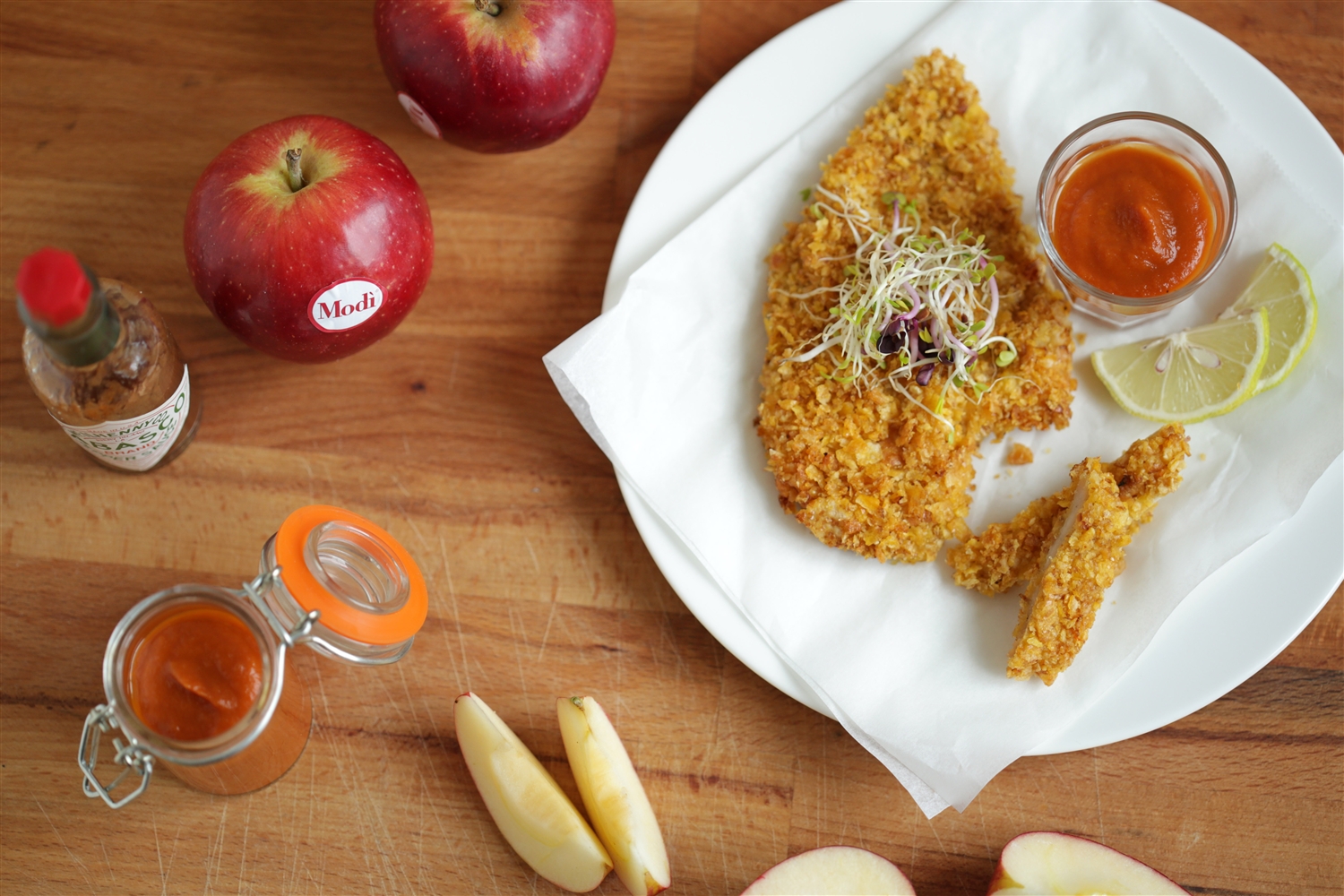 Ingredients
for for 4 slices of chicken
Chicken breasts| 4 slices (around 300g/10.58 oz)
Whole unsweetened corn flakes | around 100g/3.52 oz
Instant yellow corn flour for polenta (of the pre-cooked type) | 3-4 tbsp
egg| 1
milk, to taste
extra virgin olive oil, to taste
Fleur de sel

for the apple and tomato ketchup:
Modì apple, peeled, cored and sliced | 130g/4.58 oz
Tomato puree | 300g/10.58 oz
Red wine or raspberry vinegar | 2-3 tbsp
water| 2 tbsp
cane sugar | 1 level tbsp
garlic, peeled and sliced| 1 clove
shallot, peeled and sliced | 1
laurel| 1 leave
sweet paprika | 1 tsp
cloves | 1 (optional)
salt, extra virgin olive oil; Tabasco (or chilli pepper; chilli pepper sauce)
Preparation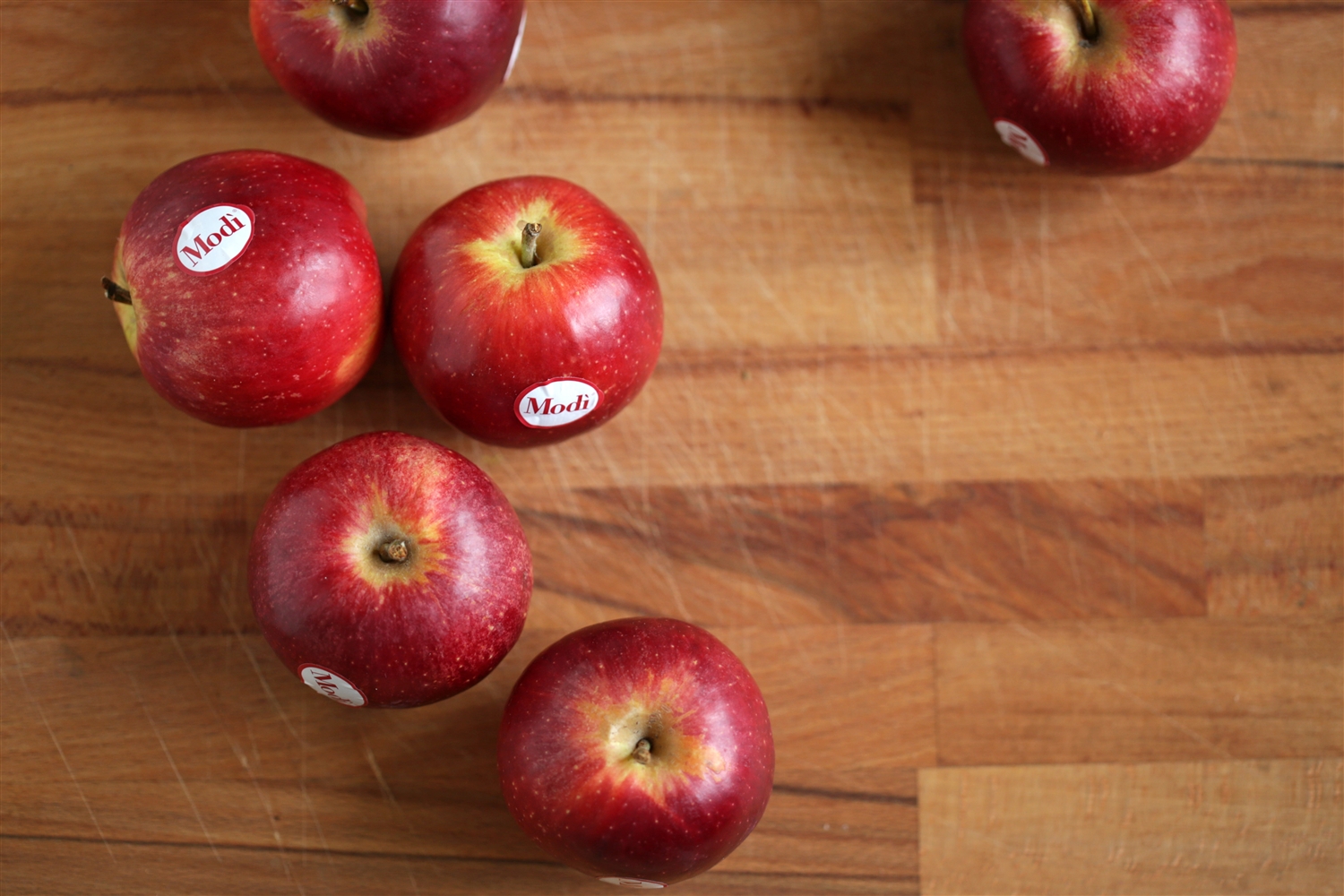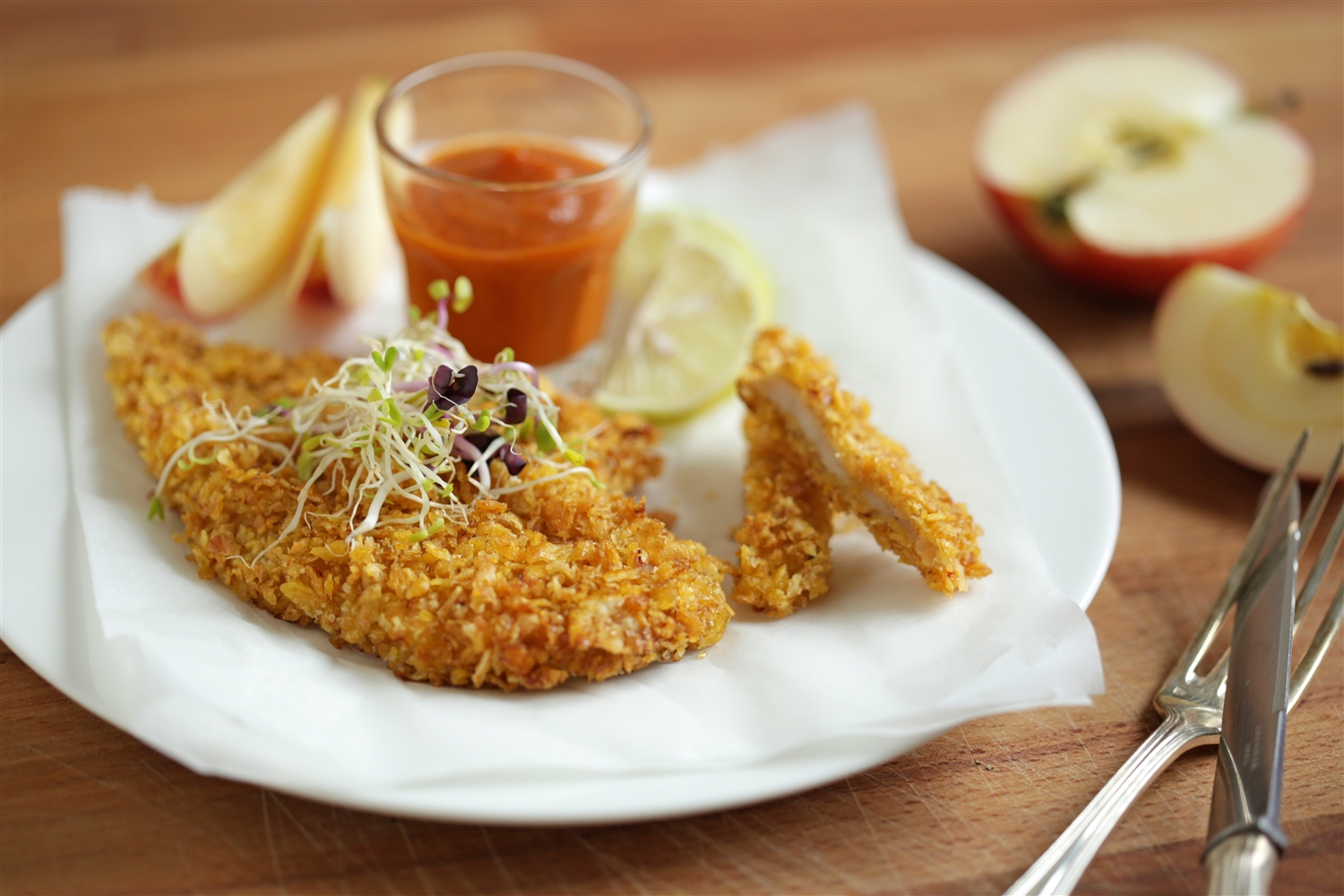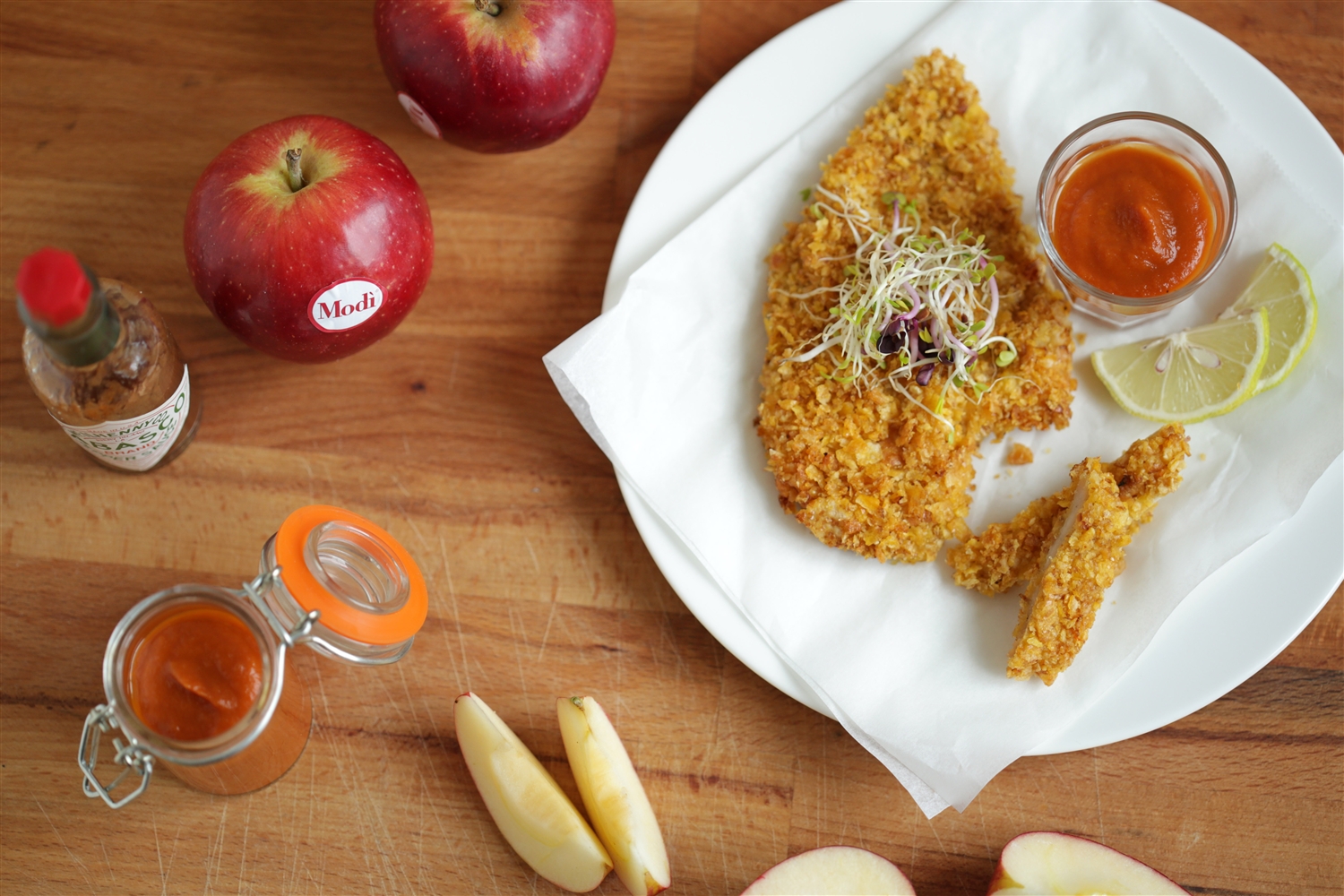 Prepare the crunchy chicken: crumble the corn flakes (blend for a few seconds in a food blender) so the crumbs are fine, but not too much; dress with salt and oil.
Beat the egg with a little milk and a pinch of salt.
Dip the slices of chicken in the corn flour, then in the egg and then in the corn flakes, pressing well to ensure it sticks properly.
Place the slices in an oven dish, on baking parchment and leave in the fridge for 10 minutes.
Bake at 200°C/392°F for around 15-20 minutes (cooking times depend on the thickness of the slices). Serve with apple ketchup.

Prepare the apple ketchup: lightly fry the shallot, garlic and Modì apple in a drop of oil for 2 minutes with the laurel leaf and the sugar. Add the vinegar and allow to evaporate, then add the tomato puree after 1 minute with the water, paprika, salt and pepper. Leave to cook for around 25 minutes or until the apple is soft. Remove the laurel leaf and the clove, blend using a hand blender, season to taste with salt and add a few drops of Tabasco if wished.

#fingerfood
The recipe can easily be turned into a delicious finger food recipe for a party with friends: cut the chicken into pieces or strips and serve with miniature glasses of apple ketchup.
Seasonal Recipe
Preparation:
20 min + 10 min in the fridge
Ingredients for:
for 4 slices of chicken
Modì Apple + chicken = a meal in itself which is out of the ordinary!
Chicken breast becomes delicious and satisfying when accompanied by a creamy and unusual (!) sweet-and-sour "ketchup" made with tomato, spices and Modì apple.
The corn flour and corn flake breading gives an ultra-crunchy touch, and is guaranteed to be even lighter by baking in the oven. A sweet and savoury combination for daring cooks!
Suggested Recipes