Season


King prawn and apple curry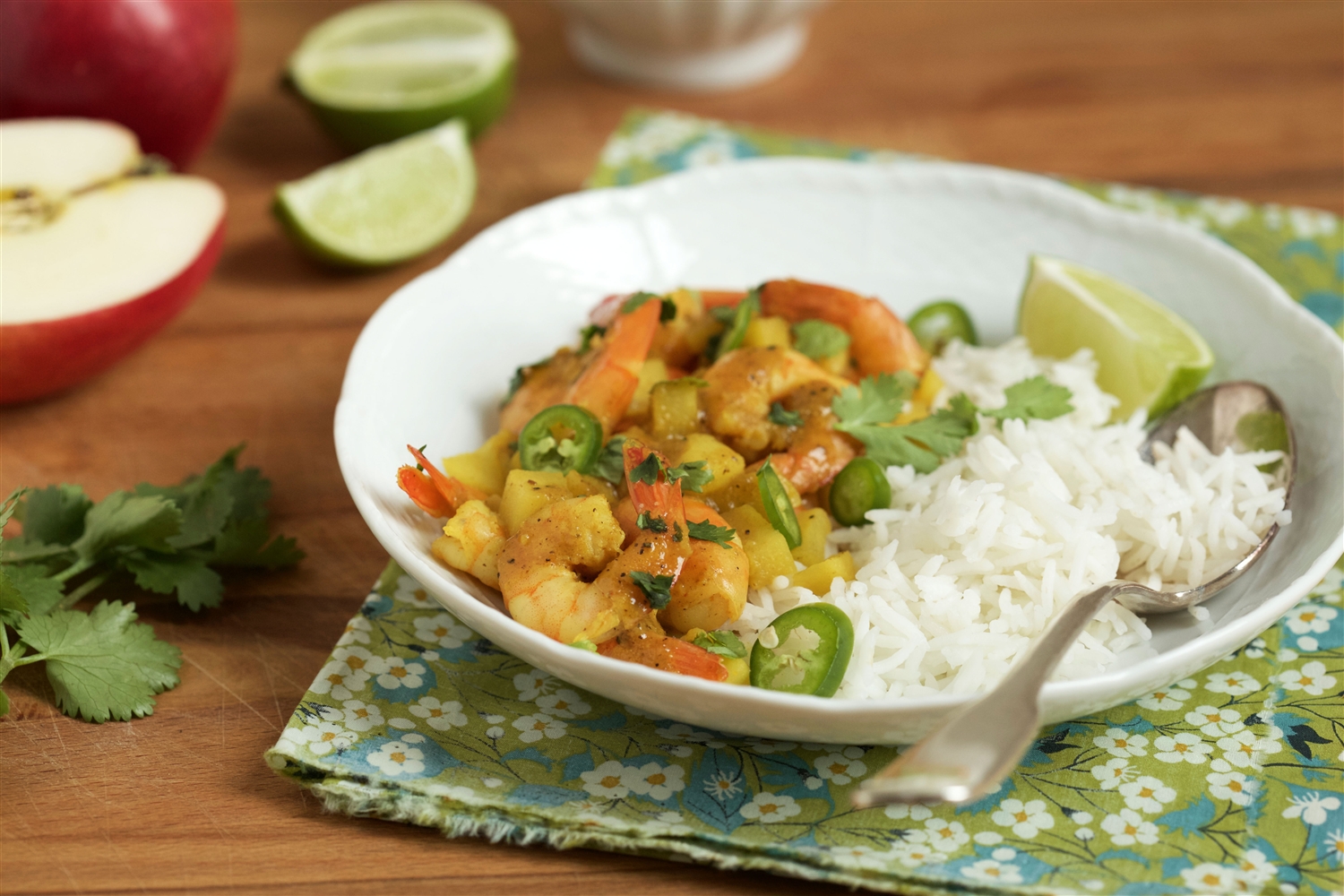 Peeled king prawns| 400g/14Oz
Peeled, cored and diced Modì apple | 1 or 2 apples according to taste
Fresh ginger | 1 piece of around 2 cm/just under an inch
Curry powder | 3-4 teaspoons, or more according to taste
Coconut milk | 4 tablespoons
Lime juice qs
Extra virgin olive oil qs
Fresh coriander and green chilli qs to garnish
Basmati rice qs, boiled or steamed
Preparation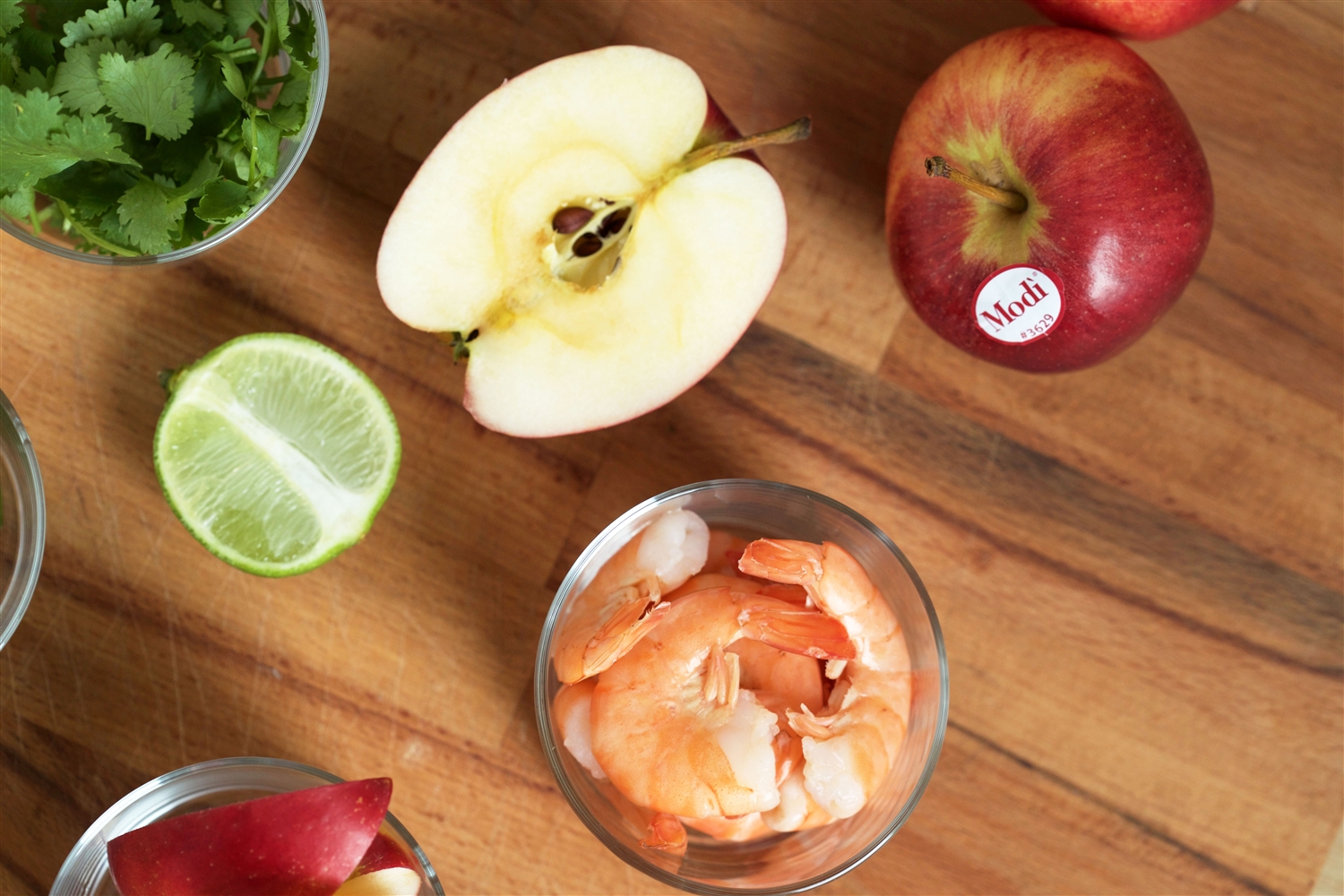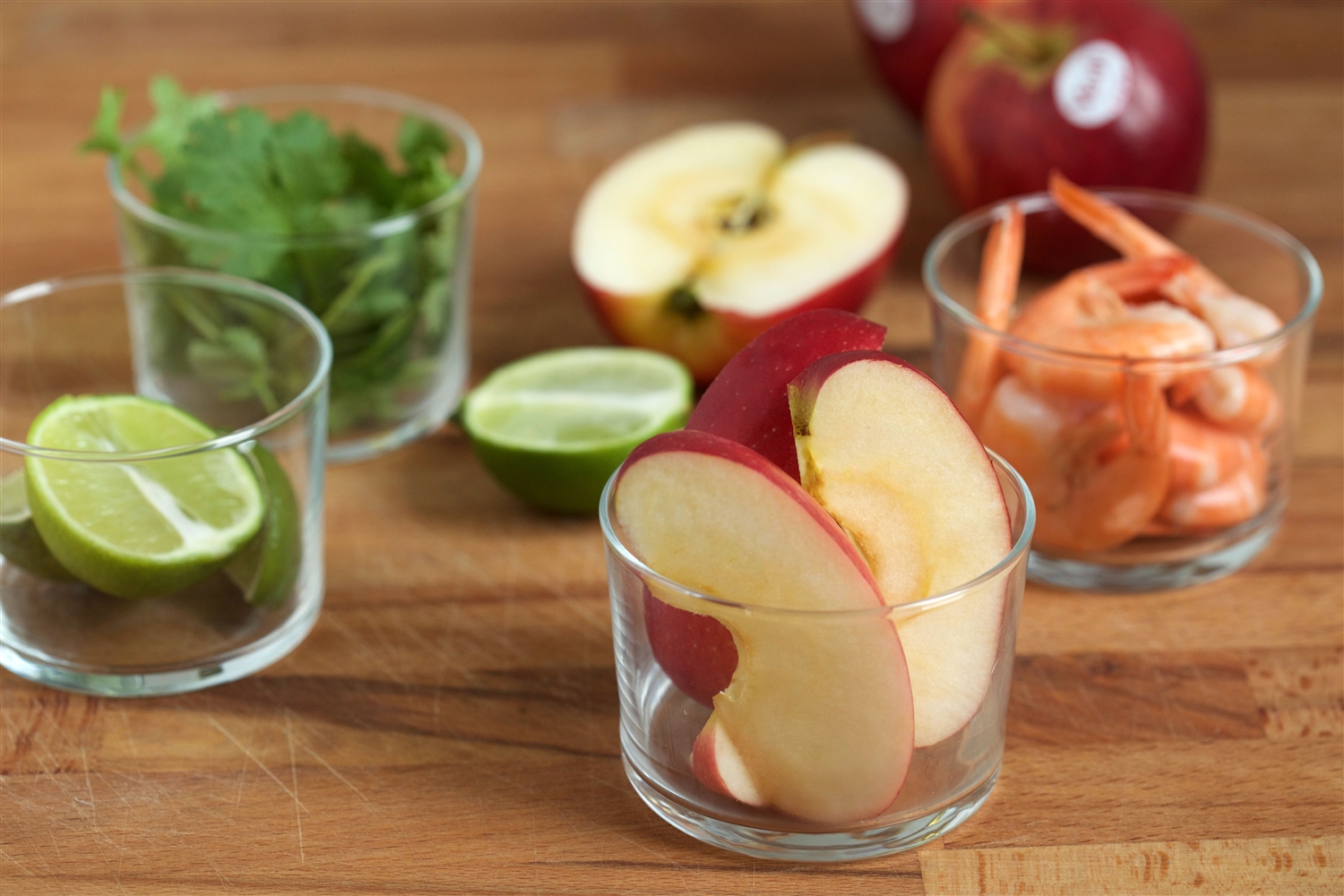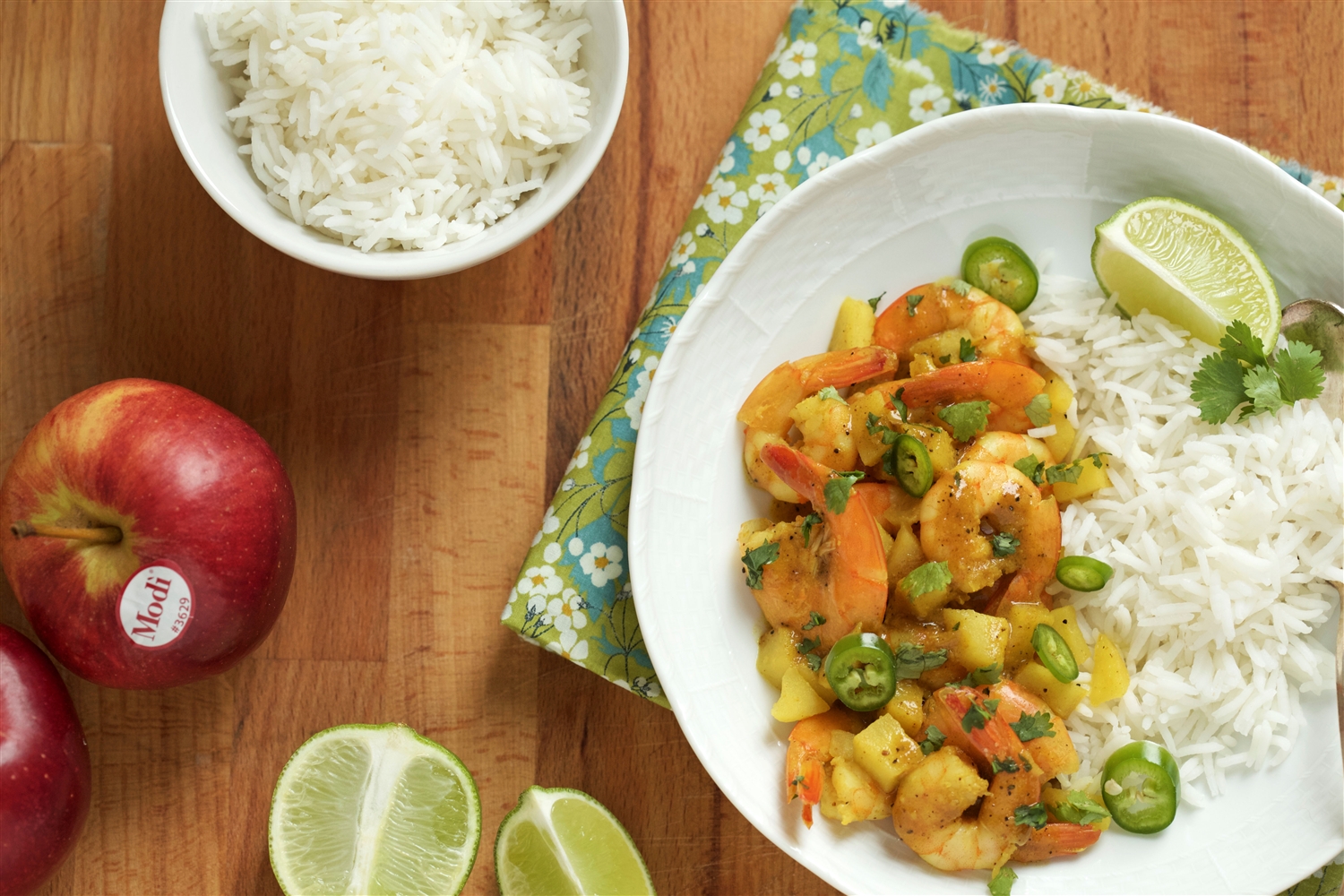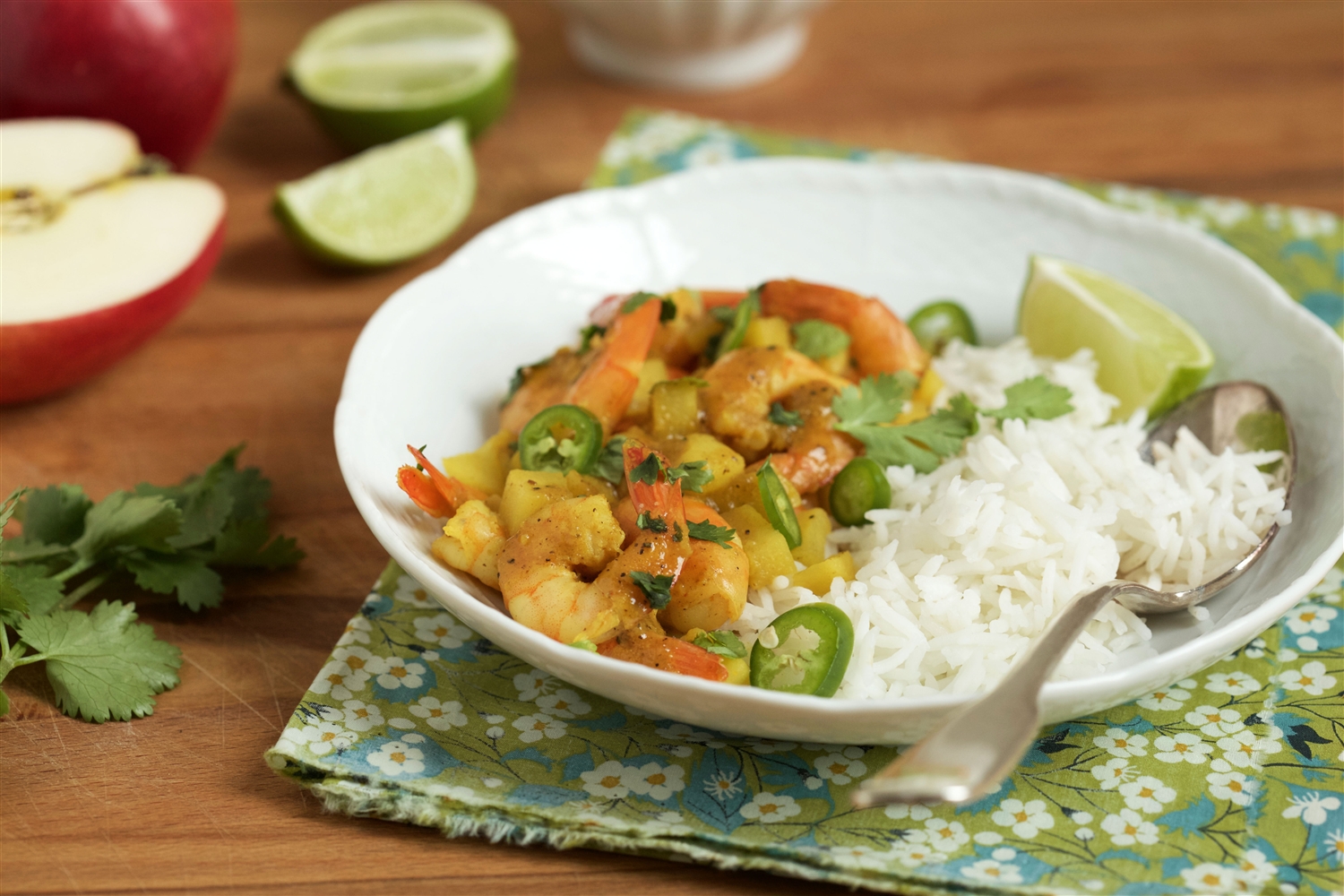 Place the king prawns in a casserole dish, spray them with a little lime juice and let them marinate for around 15 minutes.
In the meantime, peel the ginger root and grate it finely.
Heat a drizzle of oil in a pan, add the curry powder and ginger and heat them until golden brown, leave the mixture to flavour for around one minute. Add the apple, stir and simmer for a few minutes until it softens (if necessary add one or two tablespoons of water).
Once the apple is soft, add the king prawns and coconut milk (if you want a more intense taste and a creamier sauce, use more), stir and leave to cook for 3-4 minutes until the prawns change in colour. Add salt to taste.
Decorate with chopped coriander and sliced chilly. Accompany with basmati rice.

#note
Curry powder blends vary according to the manufacturer: you can also make your own at home by mixing, according to taste, dried coriander, curcuma powder, fenugreek, caraway, cumin, black pepper, chilly, ginger and so on.
Seasonal Recipe
Ingredients for:
4 people
The aroma of spices meets the delicacy of Modì apples in this delicious curry with hot exotic tones. An easy to make fusion dish to satisfy your taste buds and perfect for those cooler evenings or when you feel like experimenting in the kitchen.
If you prefer, you can accompany the dish with whole grain rice, quinoa or couscous instead of basmati rice.
Suggested Recipes