Season


Meringue Cups with Modì Apple and Strawberries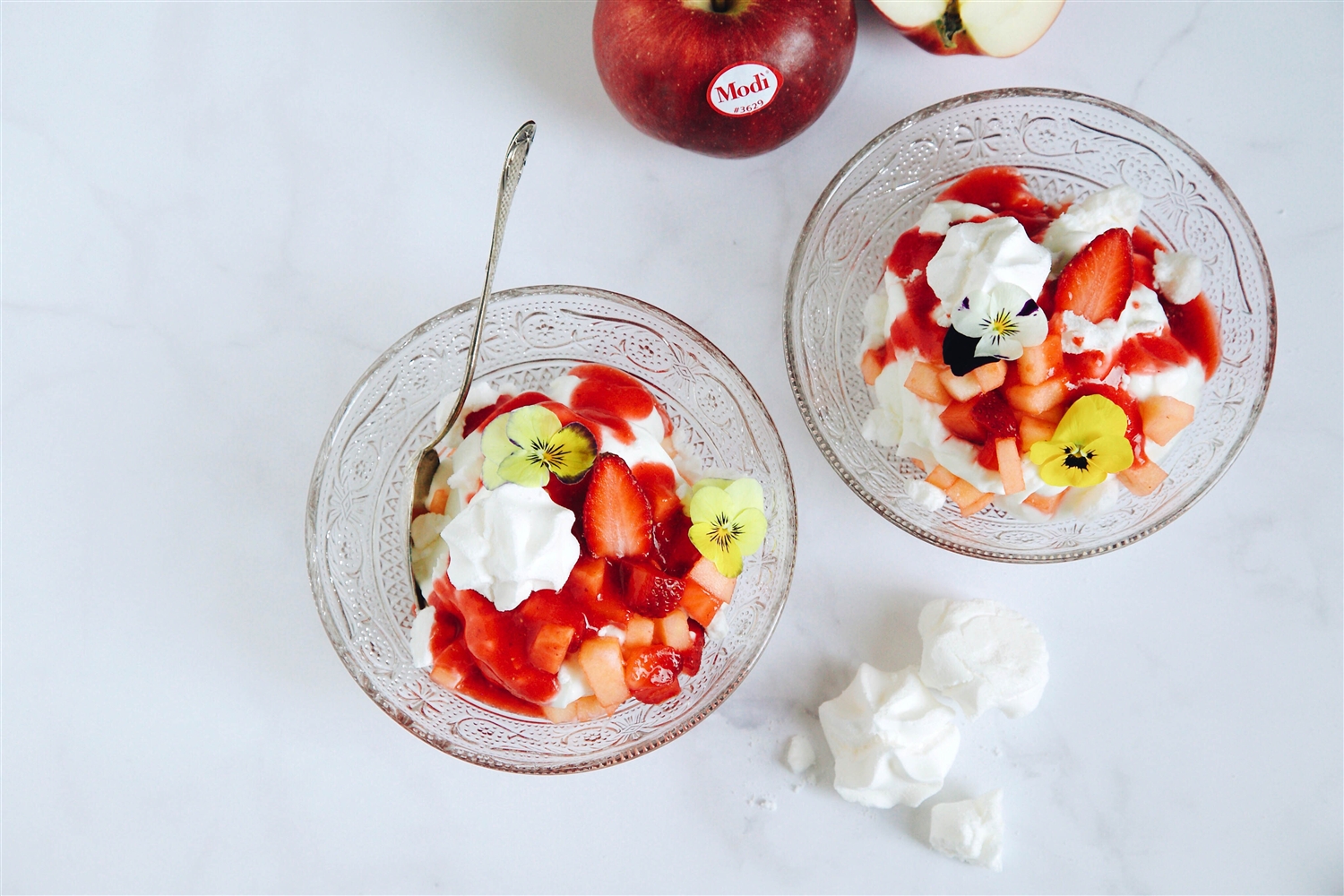 Ingredients
for 4 cups/small bowls
Modì Apple | 1
Fresh strawberries | 300g – 10.5 oz
Greek yogurt | 1 pot (170g) – 6 oz
Fresh cream | 250 ml – 9 oz
Readymade meringues qs
Lemon juice, brown sugar and caster sugar qs
Natural vanilla extract | 1 teaspoon
Preparation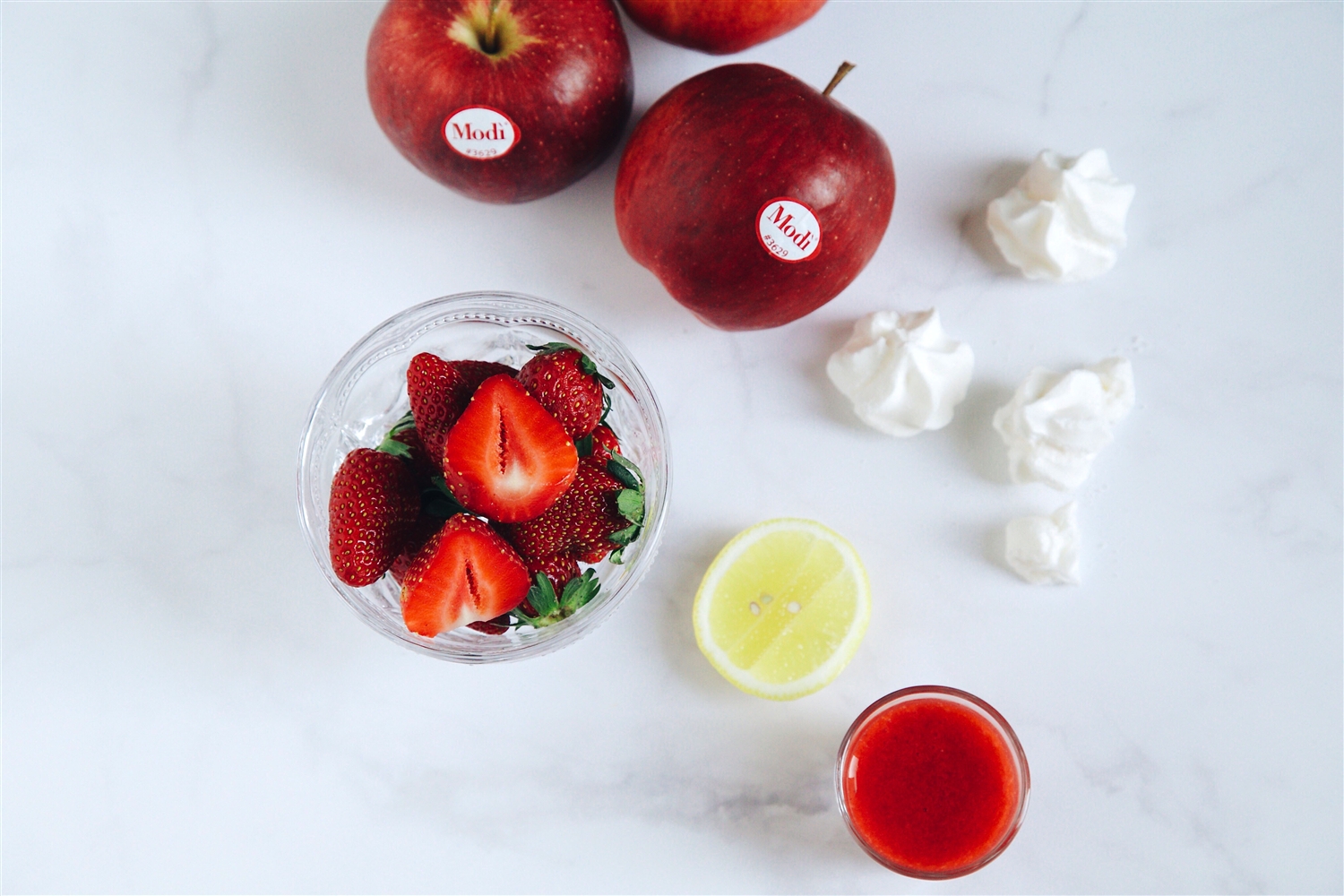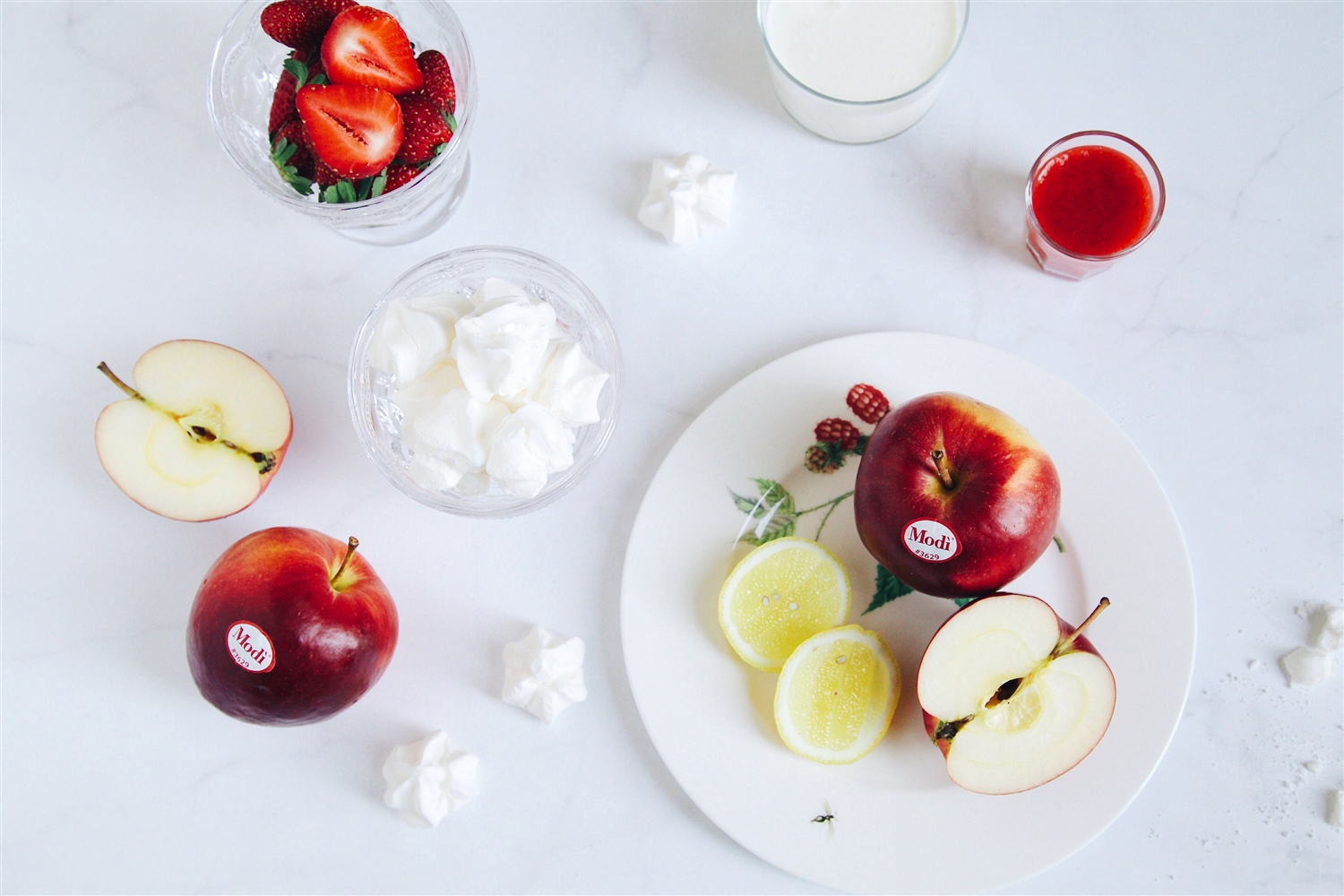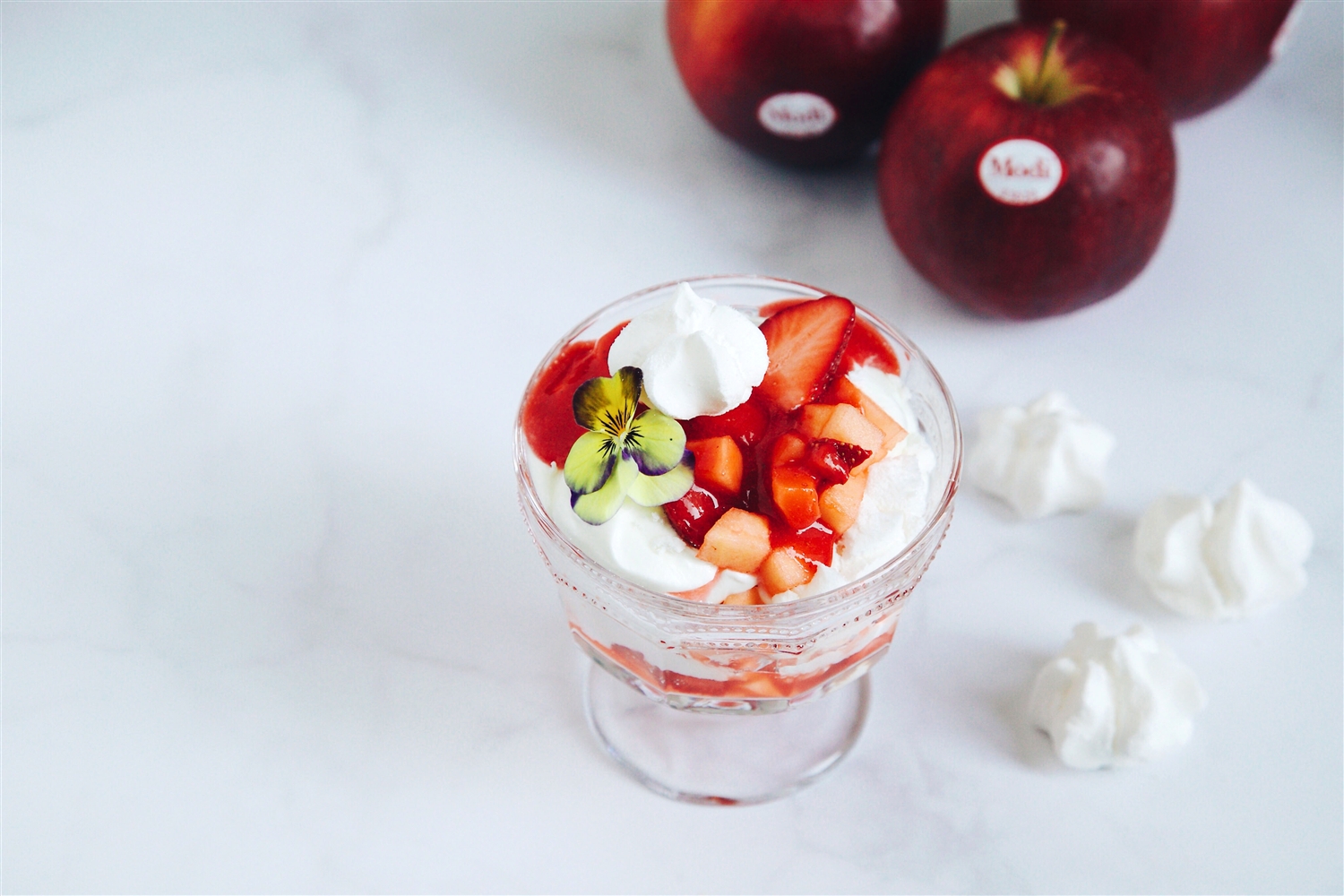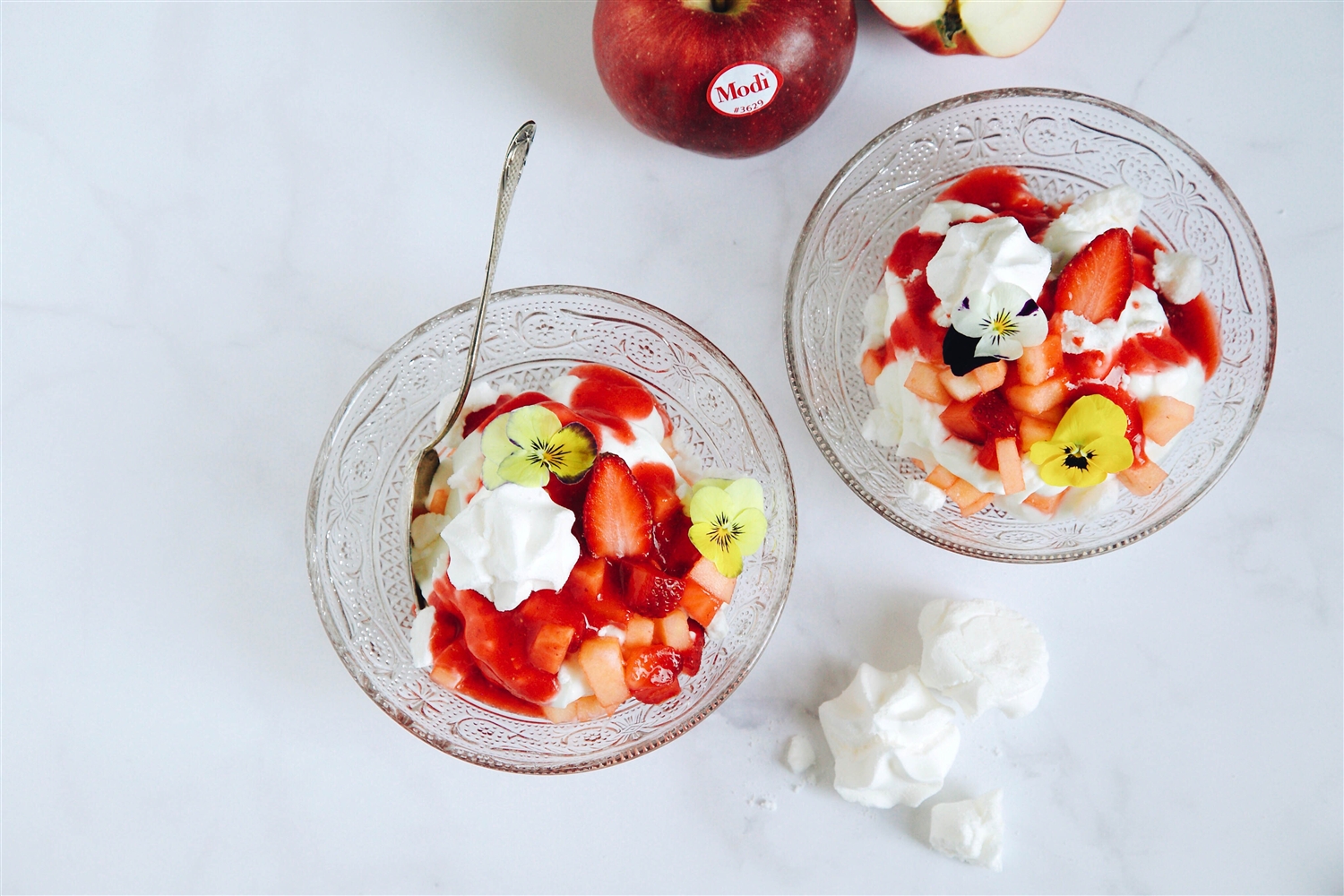 Wash and clean the strawberries, whisk a third of them (100g – 3.5 oz) with lemon juice to obtain a cream. Set it aside for later.
Wash, peel and core the Modì apple and dice it. Chop the remaining strawberries. Mix the apple and the strawberries in a bowl, add the vanilla, the brown sugar (1 spoon or more, according to taste) and a sprinkle of lemon juice. Leave to macerate.
In the meantime whisk the fresh cream adding 1 spoonful of icing sugar, then delicately add the Greek yogurt.
Place a couple of spoonfuls of apple and strawberries on the bottom of each of the 4 cups or small bowls, add pieces of coarsely crumbled meringues, a little cream and yogurt mixture and then more apple, strawberries, cream and meringues until each cup or bowl is full.
Decorate with more meringues or strawberry cream.
Serve the cups or bowls as soon as they're ready and savor them mixing all the ingredients to create a harmony of flavors.

#Cookingtips
You can replace the strawberries with another seasonal fruit, decorate with dried fruits or chocolate flakes. You might also like to mix all the ingredients together and then serve them in the cups or bowls.
Ingredients for:
4 cups/small bowls
Crispy meringues, soft whipped cream, creamy yogurt, juicy apple cubes and strawberry sauce. A winning combination! The traditional "Eton Mess," an elegant British dessert, is the inspiration for our tasty cups, rich in Modì apple.
This dessert, commonly believed to have originated between the walls of Eton College, is a summer classic: a delicious teaspoon dessert that enhances the taste of fresh fruit, easy to prepare and to beautifully serve in small delicate glass bowls.
Our version is essential, but with a new touch: the mild sourness of yogurt.
Suggested Recipes