Season


Modì apple, blueberry and cinnamon scones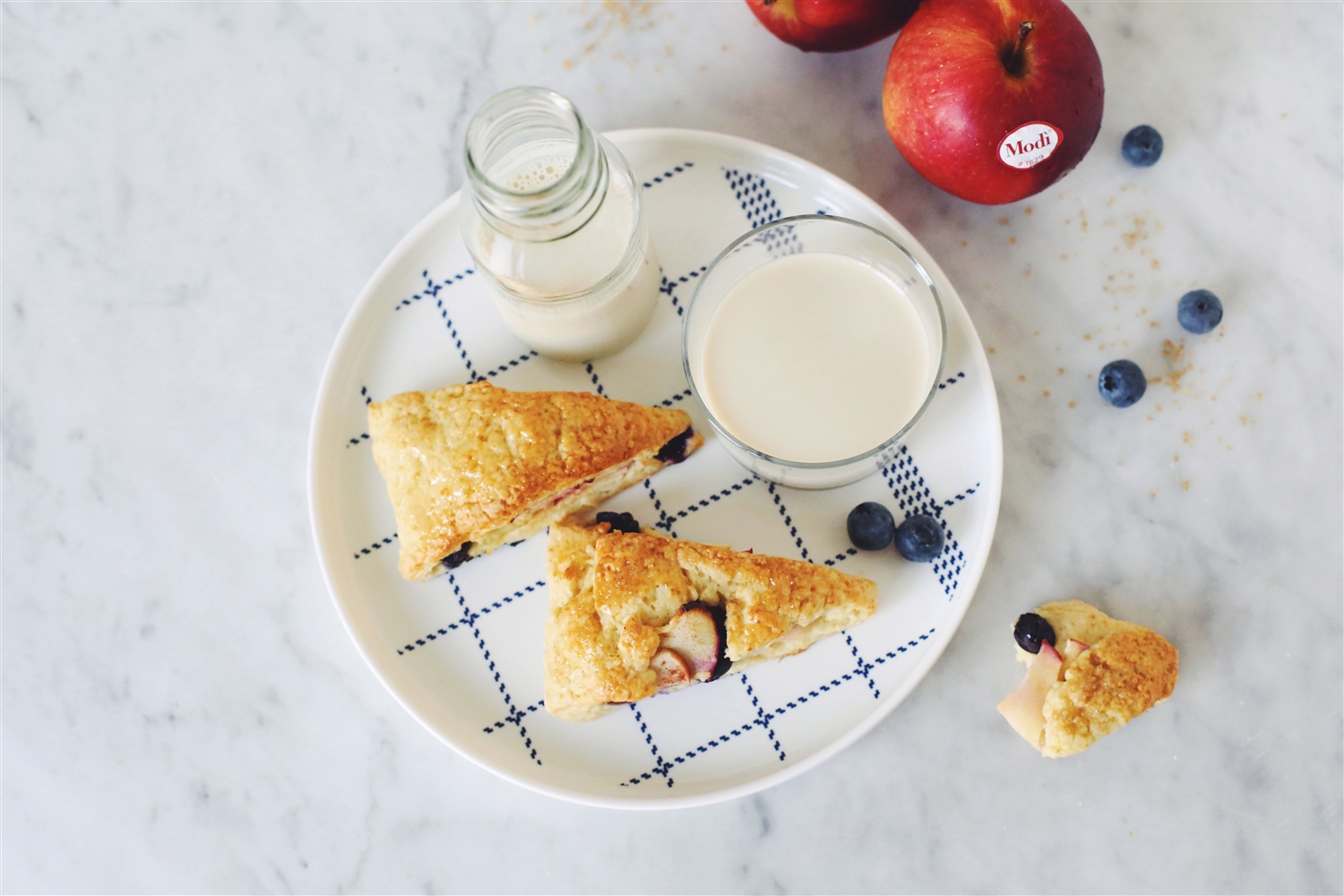 Ingredients
for around 8 scones
Flour with yeast | 225g (8 oz)
Cake yeast | 1 teaspoon
Cane sugar | 25g (1 oz)
Butter, in small pieces | 55g (2 oz)
Egg | 1
Milk or vegetable drink | 5 tablespoons
Cored and sliced Modì apple | ½ an apple or a little more
Fresh blueberries | 50g (2 oz)
Cane sugar and cinnamon qs
Milk qs for brushing
A pinch of "fleur de sel" salt
Preparation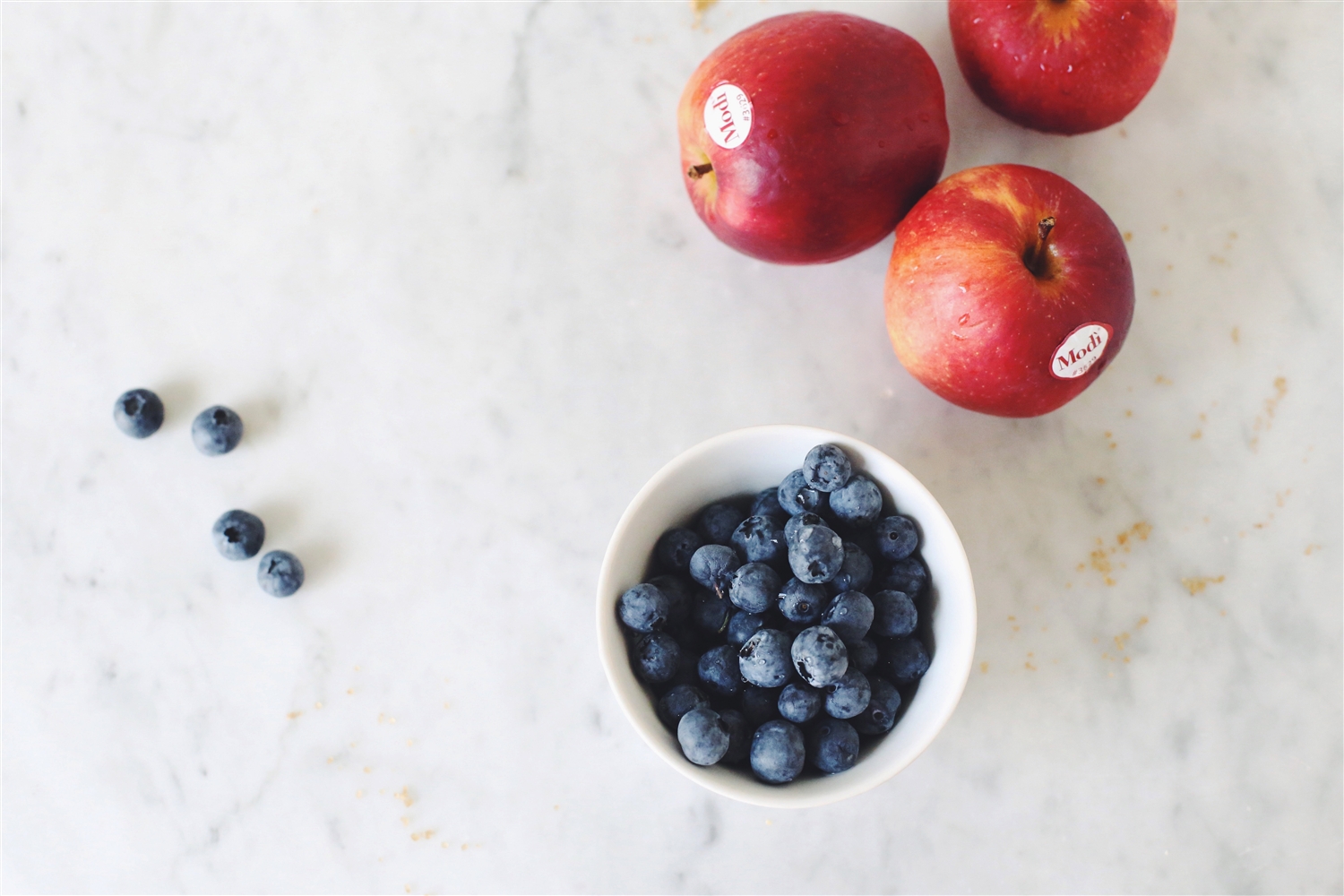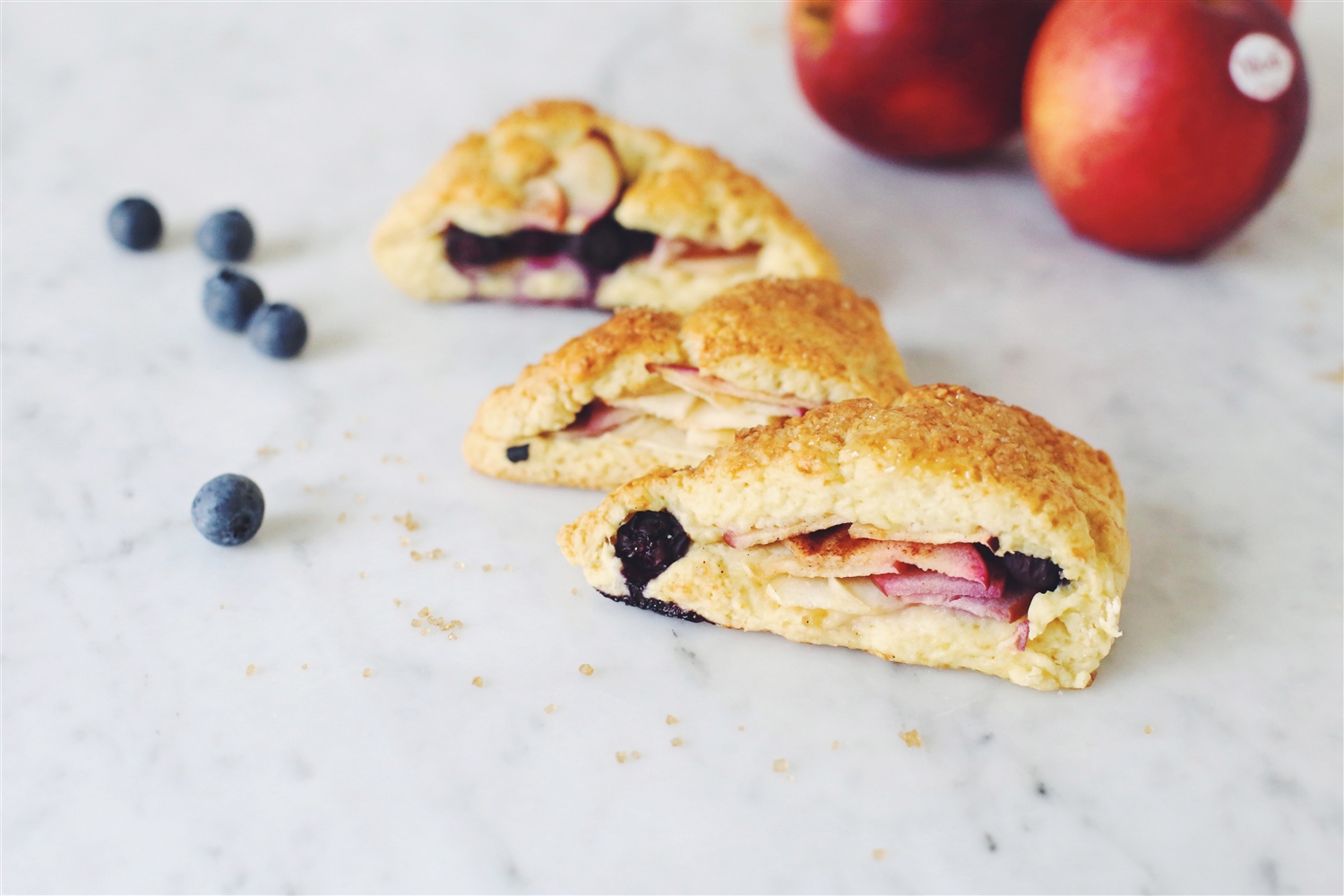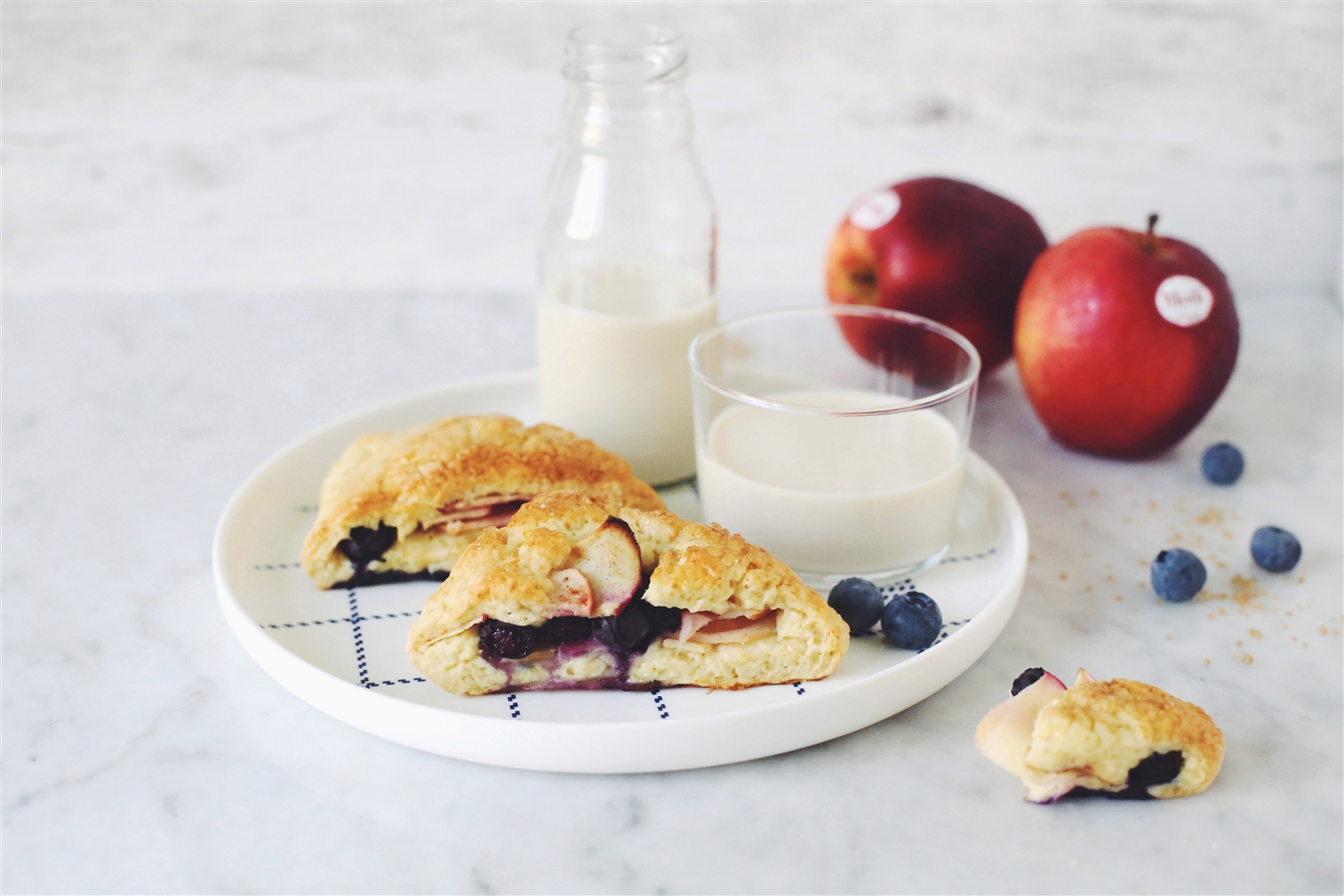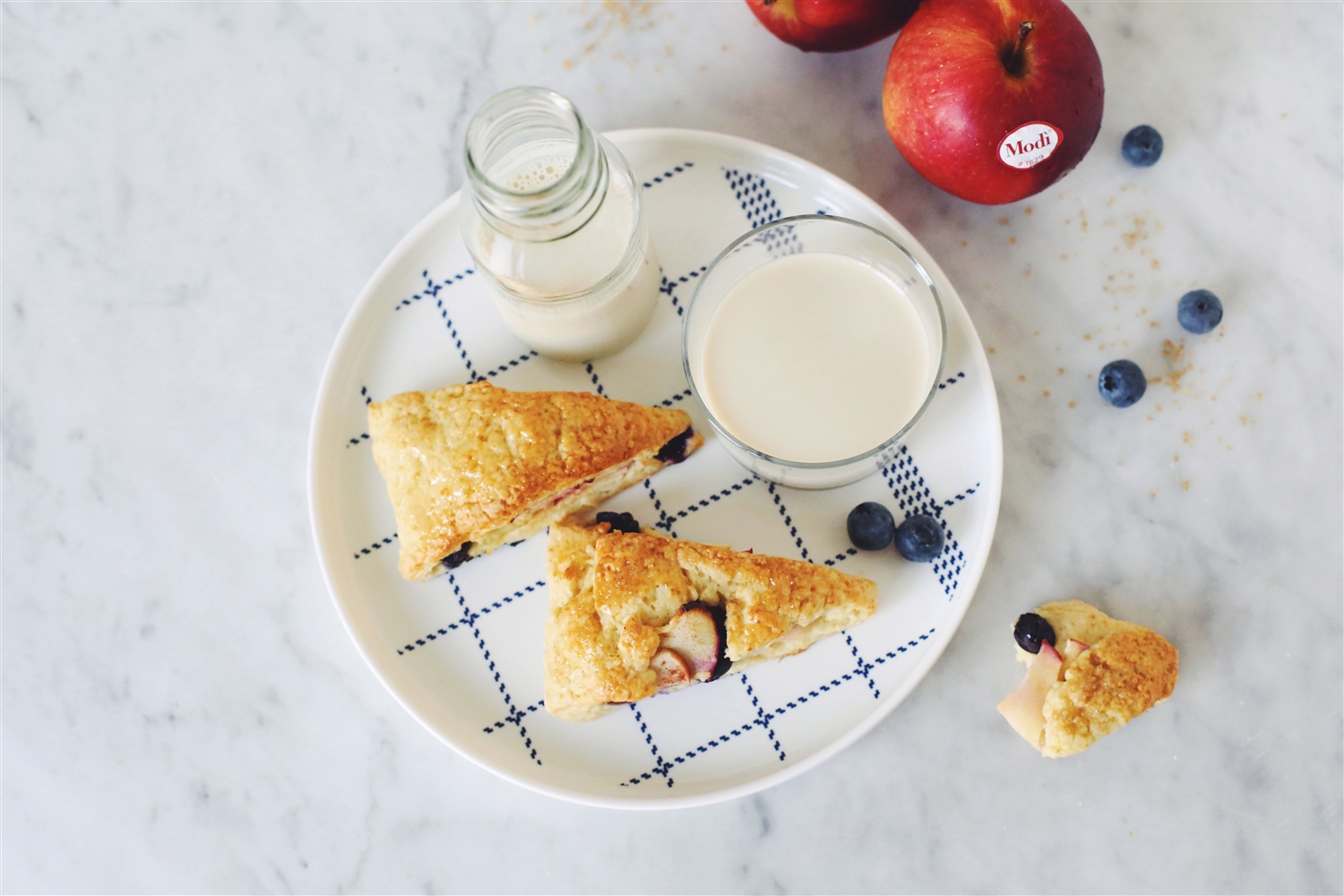 Sieve the flour with the yeast, then, using your fingers, mix it with the butter to form crumbs. Add the sugar, a pinch of salt, the slightly beaten egg and the milk: you should obtain a soft mixture.
Lay the mixture to form a rectangle: place the apple slices and blueberries at the centre of the rectangle and brush with a little cane sugar mixed with half a teaspoon of cinnamon (according to taste).
Fold the edges of the mixture over the filling and press firmly to seal, then use a sharp knife to cut out 8 triangles. Brush the scones with a little milk and decorate them with cane sugar.
Bake in a preheated oven at 180°C (gas mark 4/350°F) for around 15-18 minutes or until leavened and golden brown.
Enjoy them hot or warm (they are best if eaten the same day).
Seasonal Recipe
Ingredients for:
around 8 scones
Apple and juicy fresh blueberries enrich these leavened pastries, "scones", inspired to the Scottish tradition and usually served at teatime. In the Modì version they become small soft fruit-filled and cinnamon-scented triangles with a delicate core made up of apple slices and colourful blueberries. They are easy to make, not too sweet and essential for your spring picnic basket, brunch or all fruit breakfast!
Suggested Recipes