Season


Vanilla cooked cream, orange scented Modì apple sauce and panettone sugar stars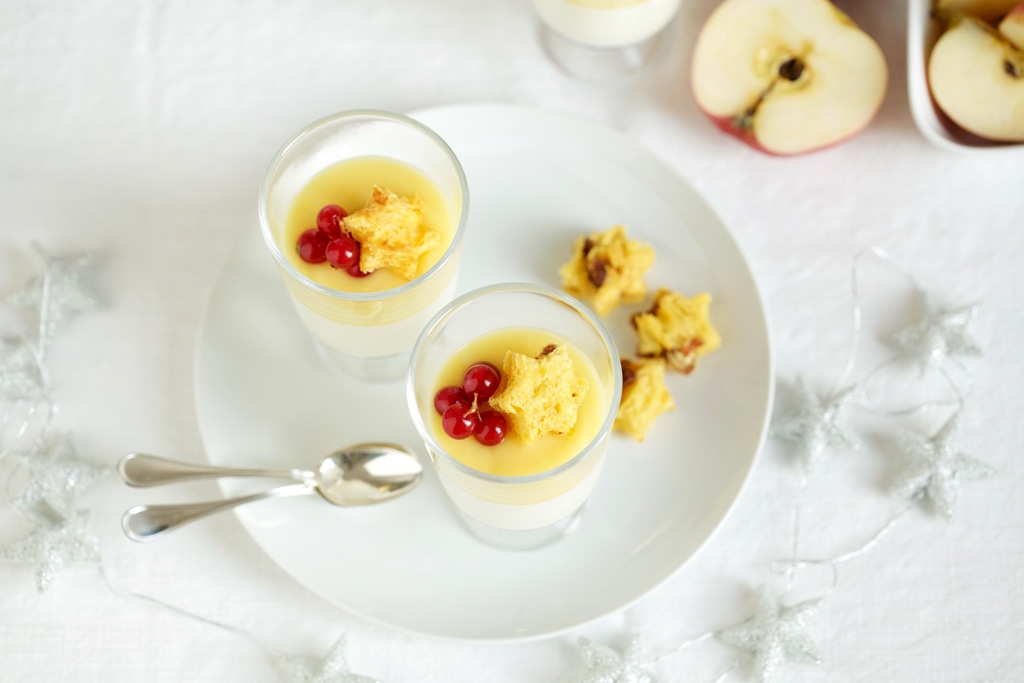 Ingredients
for approx. 6/8 mini-cooked-creams
for the vanilla cooked cream:
fresh semi-skimmed milk | 200g / 7 ounces
fresh cream | 250g / 9 ounces
gelatin sheets | 6g / 0.2 ounces (approx. 3 sheets)
sugar | 90g / 3 ounces
natural vanilla | ½ pod (sliced lengthwise)

for the orange scented apple sauce:
diced peeled Modì apple pulp) | 250g / 9 ounces (approx. 2 apples)
orange juice | 1 large orange
salted butter | 1 knob
brown sugar qs (approx. 3-4 full spoons)
Cointreau liqueur or similar | 1 spoon
lemon juice qs

accompaniments:
fresh currants and Italian "panettone"
Preparation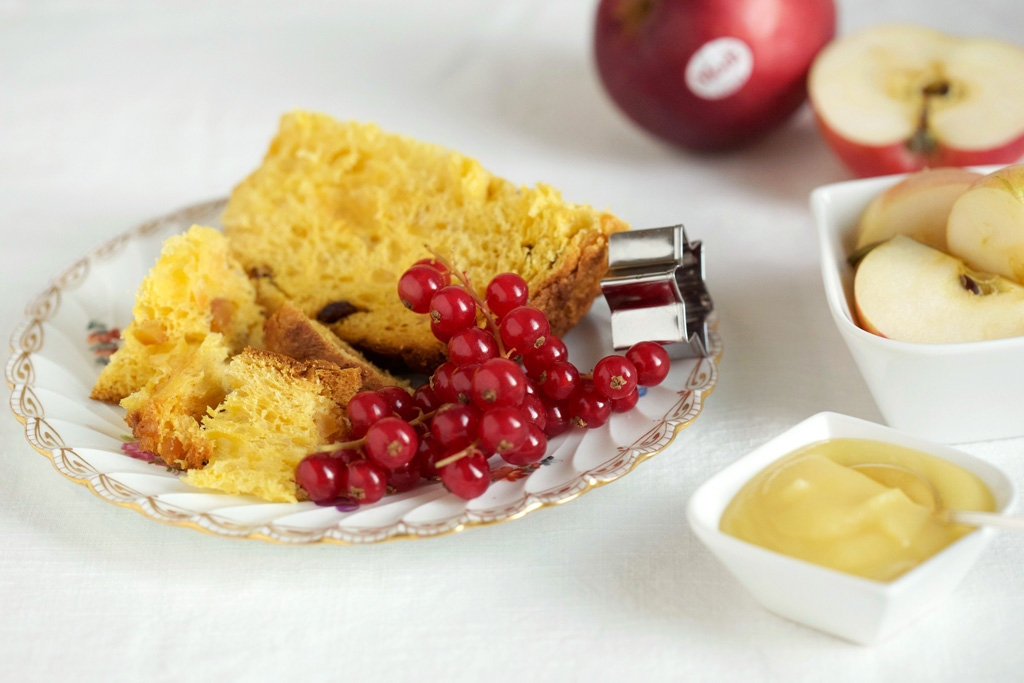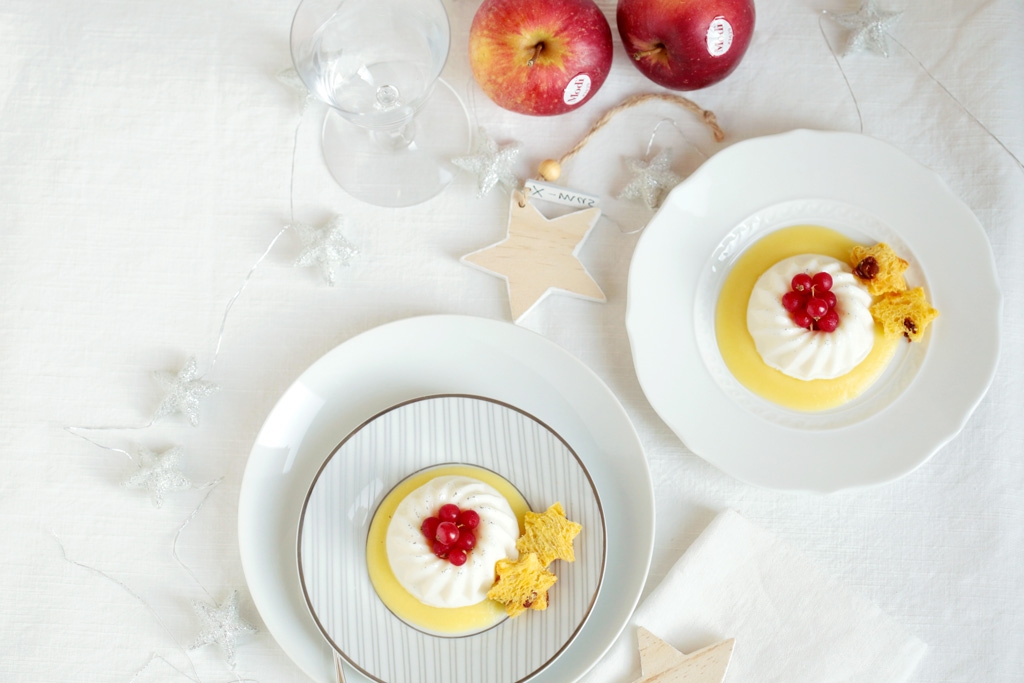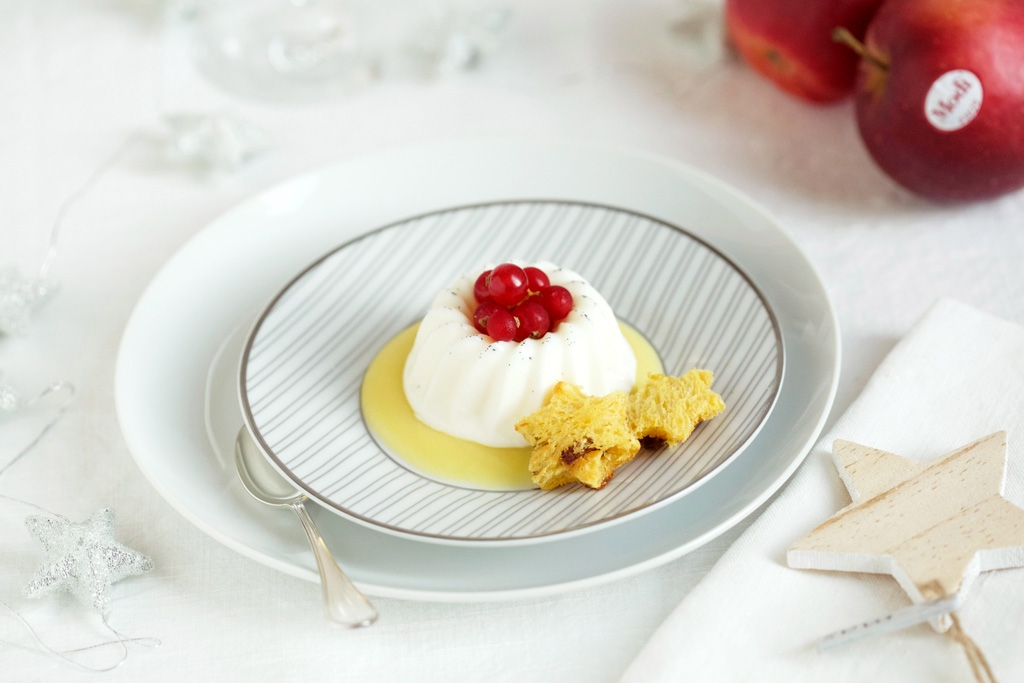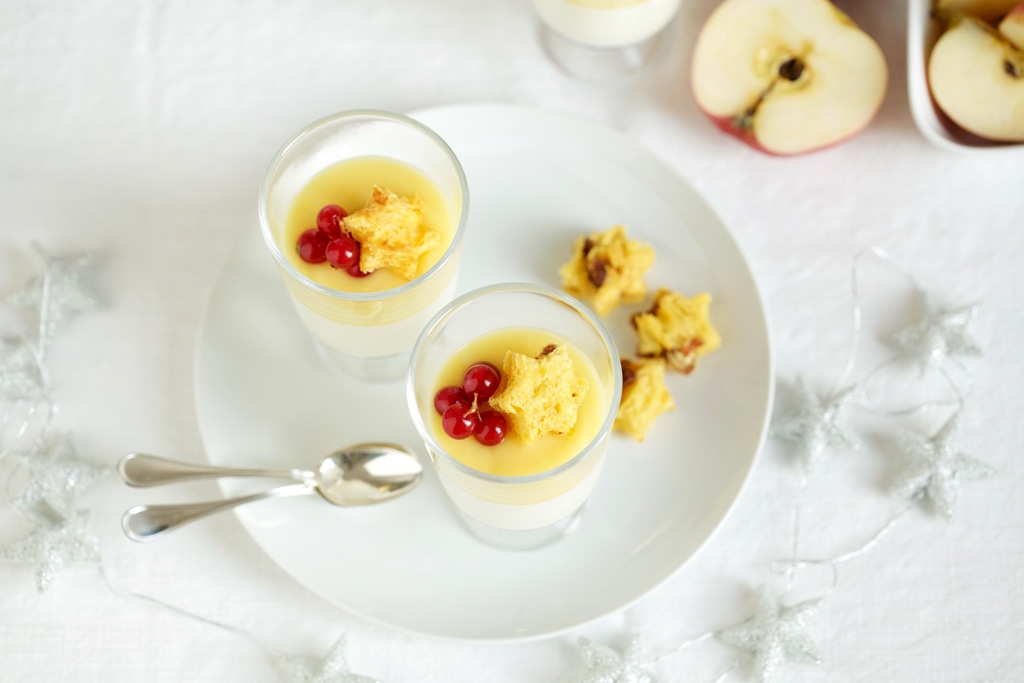 Making the cooked cream. Mix the milk, cream, sugar and vanilla, pour it into a small pan and bring to boil. Turn off the fire, cover and leave the mixture to brew for 10 minutes.
In the meantime, soak the gelatine in cold water until it becomes soft.
Filter the milk mixture, pour it again into a casserole dish and heat it. Aside from the fire, mix in the drained gelatine. Distribute the mixture in silicon moulds (this if you wish to shape the cooked cream) or in small dessert glasses or cups (if you wish to serve it in containers).
Leave to harden in the fridge for several hours.

Make the apple sauce. Spray the Modì apple cubes with lemon juice. Melt the butter in a small pan, mix the apple and the sugar, cook for 1 to 2 minutes, simmer with the liqueur.
Mix in the orange juice, cover, cook until the apples are soft: blend them to obtain a smooth sauce.
To serve. Slice the panettone and toast it in a pan without using fat (in the oven at 180°C / 355°F). Use a biscuit mould to shape the stars.
Serve the cooked cream with the Modì apple sauce, decorate with a few currants and panettone sugar stars.

#CookingTips
To shape the cooked cream without breaking it, place the silicon moulds first in the fridge and then in the freezer to let them harden, until the mixture becomes solid and can be handled: you'll be able to shape it with great ease! Then leave it at room temperature until it's time to serve, or put it back into the fridge until it reaches the right texture again.
Ingredients for:
approx. 6/8 mini-cooked-creams
A Christmas menu always has a special flavour.
Whether traditional or innovative, ethnic or regional, it always ends in sweetness.
To give a new touch to the most classic of Italian desserts, vanilla "panna cotta", cooked cream, we've added a creamy Modì apple sauce scented with orange juice and liqueur.
To top it all off: a snowfall of sugary panettone stars!
Merry Christmas!
Suggested Recipes